Hi! I'm still here! Things have been a little crazy lately, and honestly, I just haven't felt like blogging. To update everyone regarding my previous post, I did indeed pass my NARM! I am now a
Certified Professional Midwife (CPM)
. And not only did I pass my NARM, I kicked its butt with a score of 89! Not too bad, eh?
In less happy news, I had to re-home my dog, Panda "Ru" Bear. To keep a long story short, he bit my 14-month-old daughter in the ear and drew blood. This was not a case of "toddler tormenting the dog", either. She was eating a banana, he wanted her banana, she wouldn't give it to him, and he attacked her. She was absolutely terrified, and her ear was bruised and bleeding (it's mostly all healed now--yay breastmilk and salt water for wound cleaning!). He's always been aggressive with children, growling and baring teeth, but never like this. :-( I found him a forever home with a wonderful couple who has two other little dogs and a few cats, and he is settling in nicely. I can't really explain with words how much I miss him. He's been a part of my life for almost 8 years. He stayed by my side and comforted me while I went through some pretty difficult times. He was my baby. But he simply couldn't live here anymore...the risk was too great. I've wanted to write a blog post about feeling emotions while eating a low fat raw vegan diet...because man, there's no hiding from them when you don't drug yourself with fat-laden, difficult to digest foods. But, losing him is still too painful at the moment. Maybe another time.
As far as our move to Sarasota...well, it is absolutely incredible here. We LOVE it! After a couple weeks of cold weather, the sunshine is back and warm on the skin. I've been gardening a lot lately, and my plants seem quite happy (which is a nice change from every other garden I've had). My little raised bed has romaine lettuce, kale, baby spinach, oregano, basil, grape tomato, zucchini, and scallions. And a little over a week ago, my husband and I went to a friend's hobby banana garden, dug up a bunch of finger banana "pups", and I transplanted 9 of them in our yard. One of them isn't gonna make it, but the other 8 are growing like champs! Then, a couple days ago, a wonderful friend of mine (
who is going to be hiking the Appalachian Trail with her partner--powered by a plant-based diet!
) gifted us with some beautiful plants including a 3-year-old "Lemon Zest" mango tree, a 1-year-old avocado tree, 2 baby mamey sapote saplings, and some cilantro and microgreens. Overflowing with green abundance! :-)
Anyway, on to the squats! Ted Carr, a high carb raw vegan athlete, has challenged THE WORLD to do
100 squats a day for 30 days
! The newest challenge began today, April 1st, and Nick and I decided to go for it. We took photos of each other before we began our squats, and will be taking a profile photo every day for 30 days so we can create a progression video at the end of our challenge. We are really stoked about this! I've watched the body changes that other squatters have experienced and needless to say, some of them are absolutely phenomenal. I've been walking for about 45 minutes daily since moving here to Sarasota, and Nick has started attending yoga 4-5 days per week. But this is the first high-intensity workout that either of us have done, so even though it's exciting, it's a little scary, too!
April 1, 2013
Day 1 of 100 Squats a Day 30-Day Challenge
Missy's Before Photos
Scale this morning says 117 lbs (5'1.5").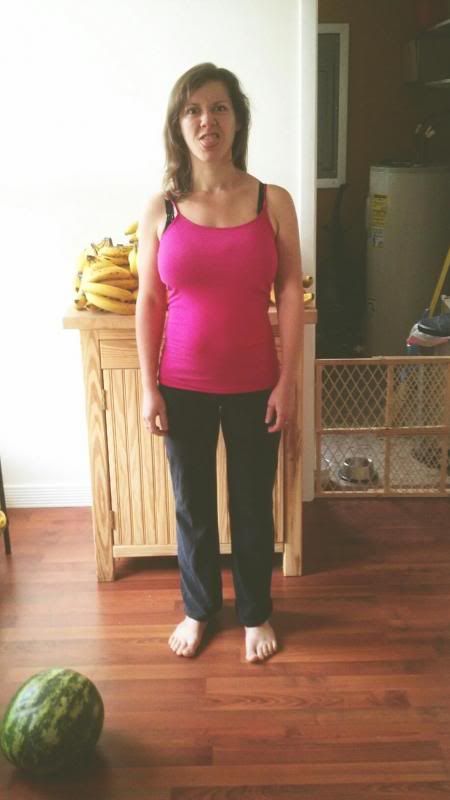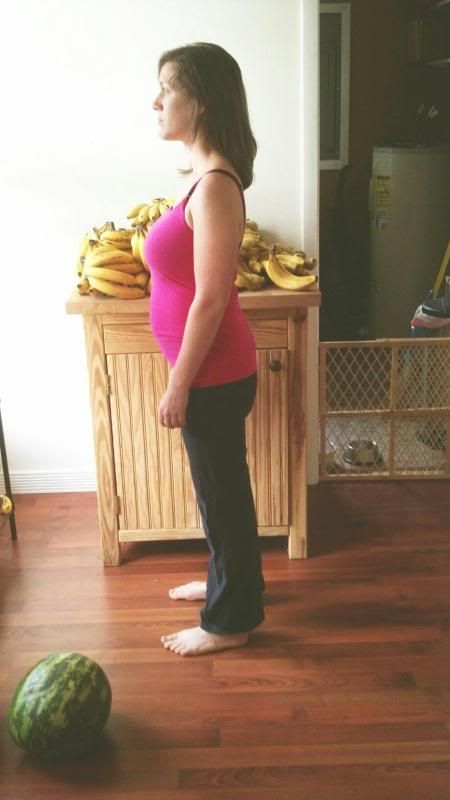 Nick's Before Photos. Scale this morning says 175 lbs.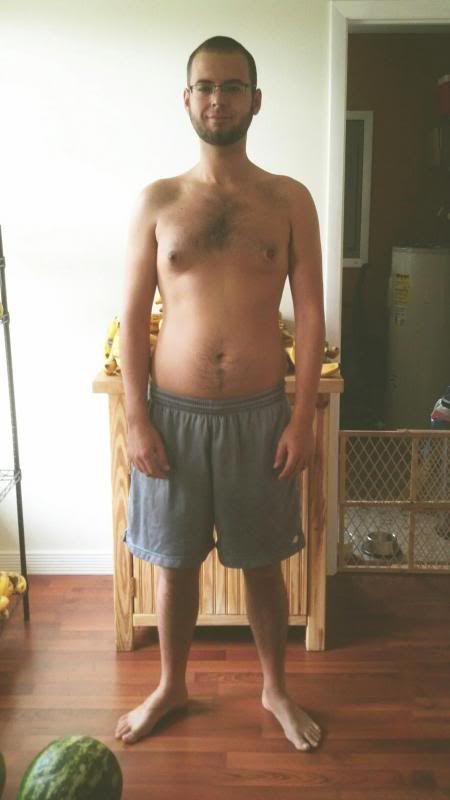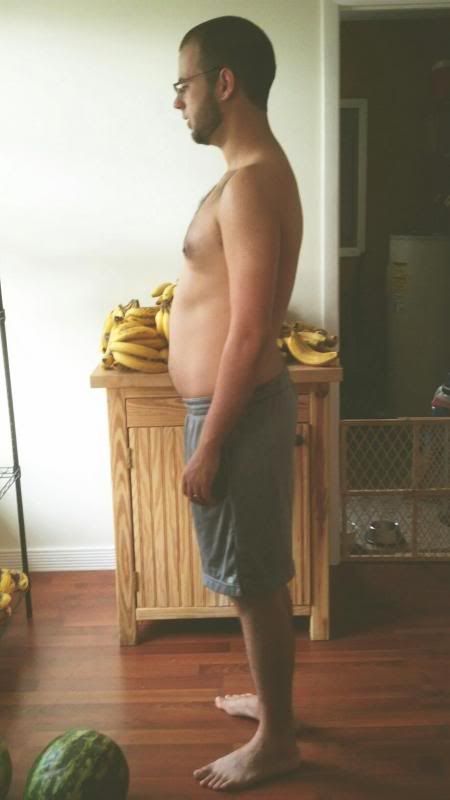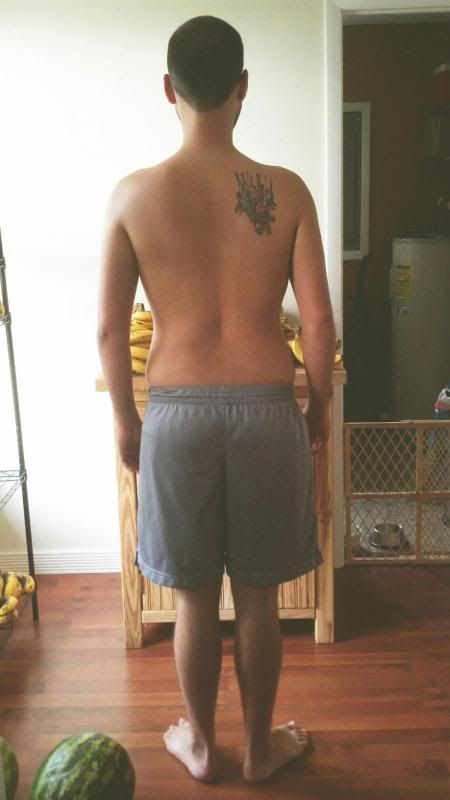 So how'd we do? Did we make it? Did we do all 100? Or did we collapse into a crying puddle after 40 squats?
Well, we did it! And neither of us did too bad! Nick's time today was 3:12 and mine was 3:38. It was HARD. Man. It was hard. I had to take a couple breaks. My legs felt like rubber afterwards, but the soreness didn't set in until later in the evening. I feel like tomorrow is going to be way harder than today, but I'm determined to do it.
At the end of the week, Nick and I will be filming videos of our squatting to share on the
100 Squats a Day Facebook page
to get helpful tips and critiquing on our form. I'll also be blogging about our progress weekly. And at the end of the 30 days, I'll post our new photos and stats, and share the progression video.
On the food side of things, I'm going overt-fat-free for the next 30 days to help re-balance my candida levels, and Nick is doing it for a week or two to support me until I can look at avocado and tahini without salivating. Because of both this and the intensity of squatting, we're going to have to majorly amp up our caloric intake. We'll probably both be shooting for 3500 calories per day from ripe, sweet fruity carbohydrates. That's a lot of mangoes, folks. Mmm... :-)