Whew! What a wild couple of years it's been! So much has happened in the past two years. So many changes...some good, some not so good. And a few were so incredibly life-changing that they led me to start writing in this blog again...and so here I am.
April 4, 2011
Nick (my boyfriend of about one and a half years at the time) and I decide to take a 30-day Raw Vegan Challenge. I had already been lacto-ovo vegetarian since October of 2003 and had dabbled in raw foods that first year of being vegetarian. Nick was not vegetarian, had no intentions of going vegetarian, but was spontaneous and up for an adventure. So I created this blog to document our journey and we stopped cooking the next day! The challenge was life-altering. Nick shed 30 pounds and healed his chronic severe stomach issues. I lost 15 pounds and felt years of brain-fog float out of my life forever. After the 30 days were over, we decided to stay vegan for life and stay on the raw food path for the time being.
Before Going Raw Vegan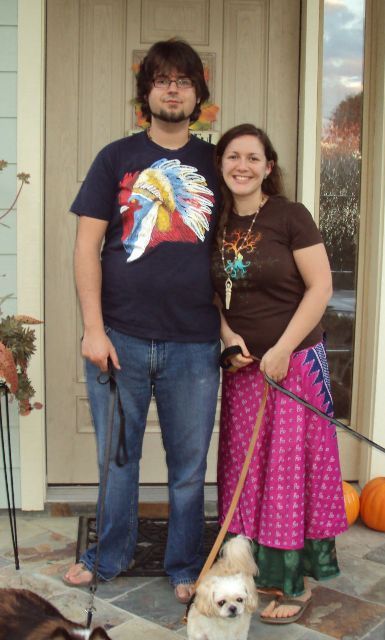 After 30 Days of Raw Vegan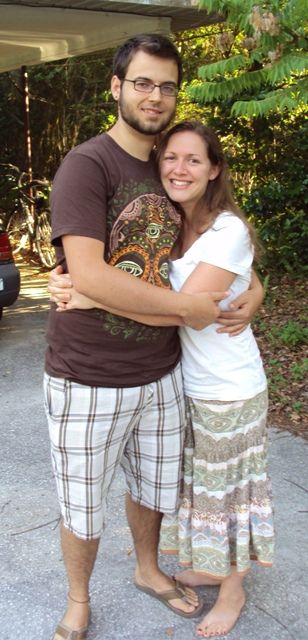 May 4, 2011
I blame the raw food. To this day, I seriously blame the raw food. On May 4th, after having charted my cycles for many years, I had my first ever "Hmm...shouldn't my period be here by now?" and bought a pregnancy test that day. It was positive. I was pregnant. I was
pregnant!!
Trying to convey the tsunami-like emotions crashing through my brain that day would take a whole other blog post, so I'll just say that my sweet girl was very, very wanted and very, very
early
. I still had another year left of midwifery school, and gosh darn it, I had just finally started getting my body into the shape I had always wanted it to be! But underneath the doubts, fear, and apprehension, there was so, so much joy. I was going to have a baby with the most kind-hearted, amazing man I had ever met. I was going to be a mother.
Two weeks later...
I got a horrible gum infection at the site of my bottom right wisdom tooth. Many years ago, when my chipmunk-faced classmates were returning to school after having their wisdom teeth extracted, I sent out a desperate plea-like prayer to the universe that I would have plenty of room for all four of my wisdom teeth. I was terrified of dentists (along with bees, aliens, and the apocalypse), and would rather suffer crooked teeth than face an extraction. So imagine my delight when all four of my wisdom teeth grew in when I was in my early 20's! Fast forward to the middle of May 2011, and I was singing a different tune. The infection came out of nowhere. It was most likely due to pregnancy hormones softening my gums and my lack of flossing (oops). I couldn't chew food and completely lost my appetite. I took strong echinacea tincture, padded my tooth and gum with fresh plantain poultices, and tried to rest. It got worse and worse. I tried to drink raw soups with lots of garlic and lemon. I lost about 5 pounds in one week. The pain was so severe. I eventually resorted to antibiotics and the infection cleared within days.
When I was able to chew again, I had severe food aversions to pretty much everything except pineapple and plain boiled potatoes. I cried the first time I ate a potato. I had desperately wanted to continue on my raw foods path while pregnant, but it just wasn't happening. The thought of raw foods, even previously cherished fruits, was absolutely sickening. We started cooking. Throughout my pregnancy, I ate a diet of whole grains, vegetables, some legumes, and fruits. We were new to vegan cooking and used lots of olive oil. I gained 35 pounds during my pregnancy...not too bad, but I had low energy, hip pain, and restless leg syndrome. Looking back, I should have supplemented because I simply was not getting enough fresh foods, including green leafy veggies. Other than the mild discomforts, though, it was an amazing pregnancy. Hearing my baby's heartbeat with my fetoscope and feeling her movement inside my body were simply indescribable experiences.
June 25, 2012
I married the love of my life! We had a beautiful outdoor ceremony on Vilano Beach in St. Augustine, Florida and a vegetarian reception at my mother- and father-in-law's house. Nick and I feasted on baked vegan eggplant, spaghetti marinara, salad, and a delicious vegan carrot cake. It was a wonderful day! We flew to Costa Rica for our honeymoon the very next morning.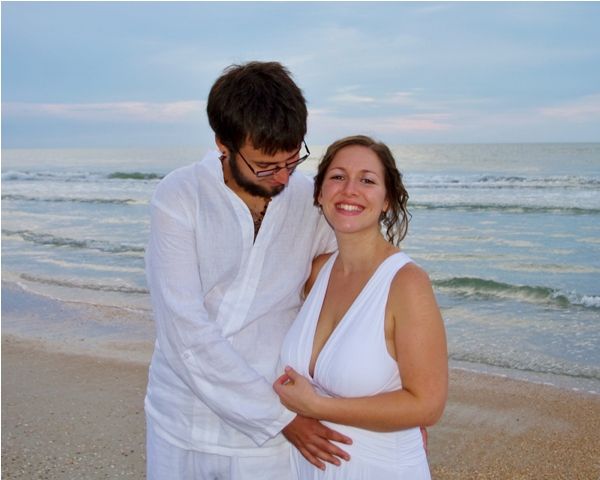 January 12, 2012
I birthed my baby girl on my bed at home! See
the blog post below this one
for Ariana's birth story!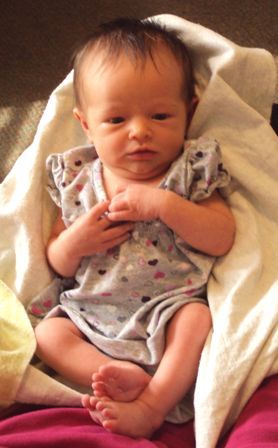 March 2012
Ariana started showing signs of colic in the middle of the night, so I immediately cut all cooked foods and allergy-inducing foods out of my diet. I went 100% low fat high carb raw vegan (80-10-10 style), and her symptoms disappeared overnight. Nick joined me about 2 weeks later, and together we were HCRV/LFRV for about 4 months. We started including low fat cooked vegan foods into our diets when finances wouldn't allow us to continue 100% raw. We both felt the effects of cooked foods (digestive imbalances, mood swings, low energy, skin breakouts) after so many months of eating raw and vowed that once finances were more stable, we'd go back for good.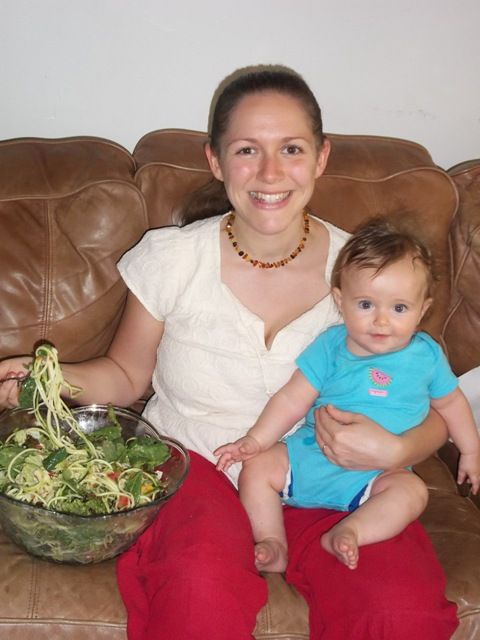 August 25, 2012
I graduated from
The Florida School of Traditional Midwifery
. After three intense years of schooling, I was finally done...with the academic portion, anyway. I still had/have some clinicals to do (4 births left!!), and will take my
NARM Written Examination
on February 20th in Orlando, Florida.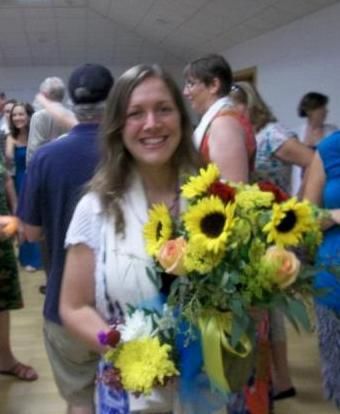 And this leads us to...
January 6, 2013, aka, TODAY!!
Today, my friends, is our last day of eating cooked food! We are using up whatever is left in our cupboards and fridge (potatoes, collards, sweet potatoes, a little bit of brown rice, and some soy milk) and preparing for our first day back to 100% high carb low fat raw vegan TOMORROW!!! Can you tell I'm excited? I wish I could explain how amazing I feel when eating this way. The clarity of mind is incredible, I shed water weight immediately (we do not use table salt), my skin clears up, my energy levels go through the roof, I have more patience, I sleep more soundly. The benefits are too numerous to document them all here so I will save that for a future blog post.
Anyway, we have almost a full case of ripe bananas, and I'll be making some low fat raw vegan pie tarts tonight to get us ready for tomorrow. Tomorrow evening is also grocery day, so we'll be picking up some citrus, greens, pineapple, fresh herbs, and a few bags of frozen fruits. We'll also be ordering a case of fresh dates from
Shields Date Garden
. Yum!!
So what's this blog going to be about, you ask? My answer to you is...an experiment! An experiment to determine how on earth I can manage to combine raw food and nutrition with midwifery, homebirth, and parenting with a little bit of gardening and yoga thrown in the mix. I'll scatter some raw vegan food porn in there as well, along with some beautiful pictures of my family and the beautiful Florida beaches. Click Subscribe...you know you want to.