I've received a few requests to document what we eat in a typical day. Now, for those of you who have been considering experimenting with a low fat high carb raw vegan diet, I don't want you to be turned off by the slight monotony of what we eat. I absolutely love the way we eat. I love not worrying about what we're going to make. I love not taking an hour to decide on dinner, an hour to cook it, a brief moment to devour it, and an hour cleaning up. This is actually the fourth time we've gone raw, and so I believe we've finally discovered a way of eating that is satisfying to our tastebuds, our schedule, and our wallet. This is what works for us, but it is NOT the only way to live this lifestyle.
BREAKFAST:
For breakfast, both Nick and I drink two quarts of a fruit smoothie (usually around 6 large bananas, 5 medjool dates, and 2 cups of frozen mango, pineapple, & cherries, about 1200 calories)...each. Yes, you heard that right...2 quarts of smoothie EACH. Ariana drinks about 14 oz of the same smoothie (usually about 1 large banana, 1-2 medjool dates, and 1/2 cup frozen fruit) for breakfast in addition to breastfeeding every 1-2 hours during the day and through the night. As you can see from the photo below, one of us usually drinks our smoothie right out of the blender so we don't have extra quart jars to wash. Simplicity at its finest!
Our chunky munchkin after finishing her breakfast smoothie.
LUNCH:
For lunch, Nick, Ariana, and I have...the exact same thing as breakfast! Remember, there are many ways to live the high carb raw vegan lifestyle, but after experimenting with raw recipes and complicated fruit dishes, two smoothies per day is simply the easiest way for us to get our carbohydrate calories in.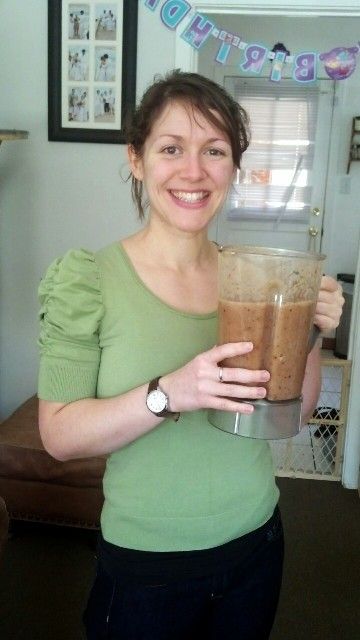 DINNER:
For dinner, we each eat our own giant salad. A typical salad for me would consist of 1 head of romaine lettuce (a large head, not just the romaine heart that come three in a bag), 3 large zucchinis spiralized into noodles, a couple tomatoes, some celery, a few diced green onions, and whatever other veggies look tasty at the moment. We top our salads with a blended dressing. Mine is usually fresh herbs, the juice of one lemon, the juice of one orange, and 1/2 cup hemp seeds. Nick's is usually 2 tablespoons of tahini mixed with the juice of one lemon. No salt. No oil. We finish dinner feeling satisfied and light...not so stuffed and full that we need to lay down and sleep it off.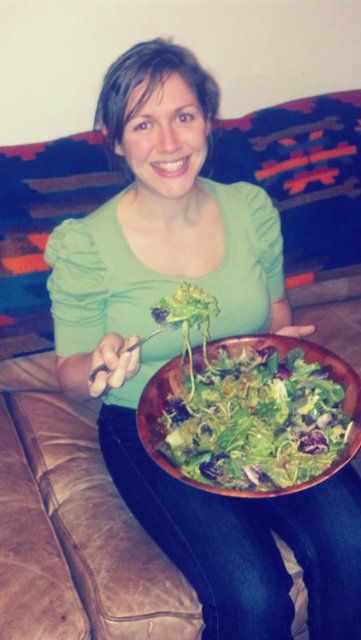 Ariana enjoys a whole avocado, a medium tomato, zucchini noodles, and the juice of an orange for dinner. She loves it!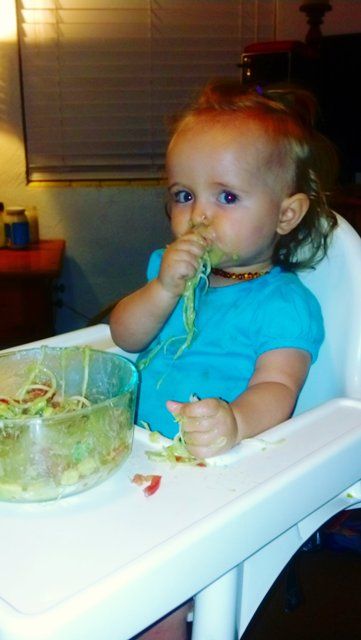 ...So is this all we ever eat? Just two smoothies and a big salad? No, not always. We snack on fruits like apples, oranges, kiwis, fresh berries, exotic bananas (mmm...ladyfingers...), and whatever other fruits appeal to us. But our staple food, at the moment, is bananas. Lots, and lots, and lots of bananas. Why bananas? Bananas are calorie-dense, high carbohydrate, rich in vitamins and minerals, delicious (when ripe!), and cheap. We buy our bananas in bulk for around $23 for a 40 pound case. We buy at least two cases per week on different days so we always have some bananas ripening. Running out of ripe bananas is something we can't afford to let happen. If we do happen to plan poorly and run out of ripe bananas (we do not eat bananas unless they are covered in brown spots), our fallback is medjool dates.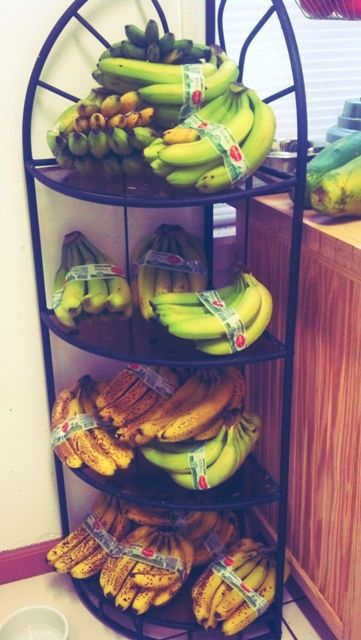 What we use as a staple fruit changes seasonally. In the spring, we feast on delicious mangoes. In summer, much of our day is spent diving face-first into ginormous watermelons. In fall, we're back to bananas and dates, and in winter, if we can find good citrus, we spend hours juicing oranges. Sometimes we get adventurous and buy the weirdest tropical fruits we can find...like the jackfruit we bought at our local Indian market the other day. So amazingly delicious!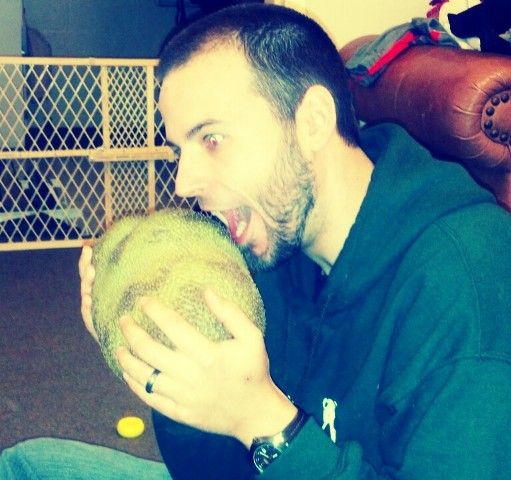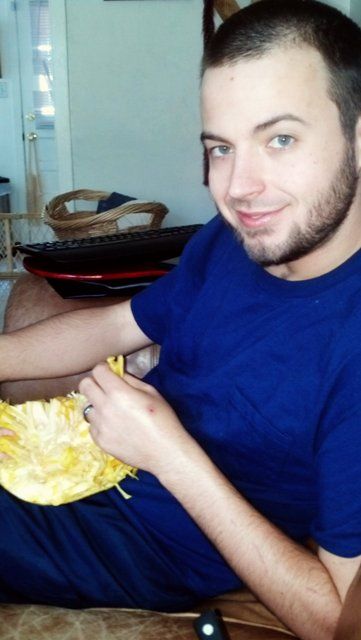 And sometimes we do spice things up a little bit by creating an extravagant low fat high carb raw vegan gourmet dish. It's rare because it takes a lot of work and time, and as busy parents, we'd rather spend that time with our daughter. But every once in a while it's nice to have something a little different. Last night, for example, we had raw vegan burritos, courtesy of Kristina Carillo-Bucaram over at
Fully Raw/Rawfully Organic
! They were delicious and different...and very time consuming...just what we needed to remind ourselves that simple is usually better but change can be nice, too. :-)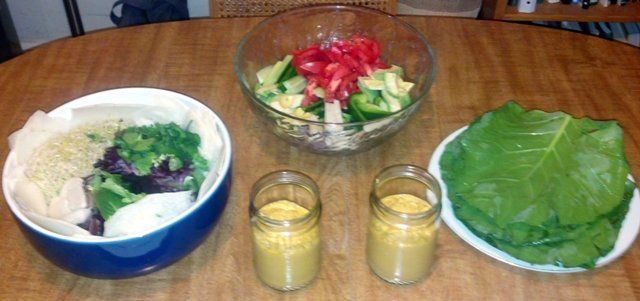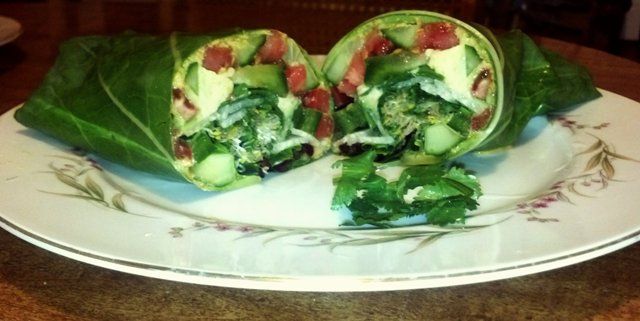 I hope you enjoyed a peek into our daily menu! After reading this post, you are probably wondering...but why so much? Why so much food? Why so many calories? Why so many carbohydrates? WHY SO MUCH FRUIT?! This lifestyle is definitely one of ABUNDANCE not restriction, and those are very valid questions, my friends! Stay tuned for the answers in a future post. For now, I'm off to dream about sapodillas and ataulfo mangoes. Mmm...good-night.