What a fantastic first day going raw! I'm not quite sure what I was expecting, but today was delicious and awesome. And for some reason, I was scared that preparation was going to be way more involved...but it most definitely wasn't. I feel like food preparation takes just as much time when getting prepared to cook food, and then it takes time to actually cook it. Then, there's dirty dishes from food prep, cooking, and eating. With raw foods, there's dirty dishes from food prep, and then you either blend and eat, or simply eat! Way easier, way less dishes, way less messy...way less time spent in the kitchen! I'm loving it so far!!
So today's breakfast was called Blueberry Fool. (Here is the
recipe
) This dish was a success! It was Nick's favorite food of the day, and I absolutely loved it, too. It was extremely rich and creamy, with just enough sweetness. We decided that when we make this again, we will only blend about a quarter of the nut yogurt with blueberries (instead of half the yogurt), just enough to make a sauce. I didn't know raw cashews could make such a delectable breakfast!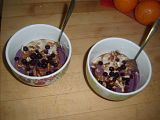 Lunch was Kick-Ass Kale and Curried Almonds. There is no recipe for the kale--I got the idea from one of my teachers at midwifery school (Thanks, Kaitlin!). It's a staple around here, even before we went raw. Basically, you take one bunch of washed kale, tear it up into pieces, put it in a mixing bowl and add olive oil, the juice of half a large lemon, a dash of sea salt, a dash of garlic powder, and a dash of cayenne pepper to taste. Mix it really well with your hands, and actually squeeze and squish the kale to really break down the cell wall. That's it. It's sour and salty and delicious.
For the almonds, we followed the recipe from the
Raw Foods Witch
's snack ebook. Soak some almonds for at least two hours, rinse and drain well, then add sea salt, cumin, curry, and cayenne to taste. Let them dry, and eat up!
Dinner was
Mexi-Fiesta Soup
, a recipe from RAW FOOD NATION. It was hearty and really, really filling. I think I could have used an extra jalapeno pepper for more kick, but other than that, it was great. I will say that eating a cold soup is a different experience! I am a soup snob, absolutely love soups and have been making them for many years, so this soup was...well...different! The taste was spicy and savory, with just enough saltiness. It was really yummy! But, it's probably gonna take me a little while to get used to eating soups that are not piping hot. Oh, and Nick really liked this soup, too.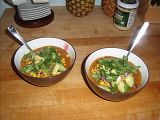 I tweaked the dessert brownie recipe. The original recipe, found
here
, called for carob powder. Now, I looked at every health food store in town and could not find raw carob powder. It was all toasted. So instead of 1/2 cup raw cacao powder and 1/2 cup carob powder, I used 3/4 cup raw cacao powder and 1/4 cup nutritional yeast. The entire recipe was satisfying and good, but next time I will add a little bit more agave (or maybe a banana). Oh, and my goodness, this was very difficult to make in the blender (and we have a pretty awesome blender!)...I suppose this may be incentive to purchase a food processor. Thick foods that need to be chopped and mixed do not do so well in the blender. So yeah, we might be buying a food processor this week...we'll see. Anyway, Nick suggested that next time we could chop the cherries, mix them with a bit of agave, and then spread it between two layers of the brownie mixture. I like his idea. :)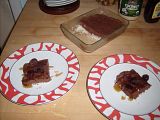 Overall, it was a great first day! I was surprised at how full I felt after each meal. I'm so used to eating really heavy, gooey, sticky cooked foods that sink into the bottom of your stomach like a heavy brick. After eating these meals, I felt satisfied, but not so stuffed that I wanted to take a nap. This makes me happy! I did get a bit of a headache later in the day, but I'm not sure if that's due to not drinking enough water or withdrawal from sugar (Hi, my name is Missy and I'm a sugar addict.)...so we'll see if it comes back tomorrow. Looking forward to another great day full of fresh, raw foods!