You may be wondering why I post the day's entry at around one in the morning (which is technically the day
after
). Well, the reason is that Nick works a late shift and usually doesn't get home until around 11:30pm or midnight. Then we have dinner, then we clean up the kitchen, and only
then
do I have time to blog. I would post the next morning instead of so late at night, but I'm too afraid that I'll forget what I want to say. So until Nick no longer works late, this is how it works for us. :)
Nick's mom Lynn and her friend Whitney came over for brunch today! It was very nice to see them, and we had a lovely late morning/early afternoon meal of
Raw Zucchini Spaghetti and Walnut Meatballs
. You may remember that we also had this meal
last week
and it was such a success that we decided to make it again. And lo and behold, it was a success once again! Both Lynn and Whitney raved about how yummy and
filling
it was, and asked lots of questions about raw foods. Unfortunately, in the hustle and bustle of food preparation and hostessing, I forgot to take photos of the lovely meal! So you'll just have to trust me when I say it was pleasing to both the eye and the palate. ;)
Lunch
: Fruit and Cream. Mmmm...something about this meal seriously reminded me of some sinful comfort food. It was soft, sweet, luscious. Ripe banana, ripe honey mango, ripe blueberries from the farmer's market, and topped with fresh cashew milk that we made yesterday. I find it so strange that this girl who used to commonly say, "I just don't like fruit. I prefer veggies." is now CHOWING DOWN on delicious ripe fruits and wanting more and more. I could seriously eat this stuff all day.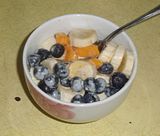 Snack
: Trail Mix Part 2. I make this trail mix mainly for Nick, who takes a little baggie of it to work every night. This batch has almonds, cashews, sunflower seeds, pumpkin seeds, golden raisins, goji berries, chopped dates, chia seeds, and sea salt. This batch was really cool because the chia seeds all stuck to the sticky raisins, making it easier to eat them!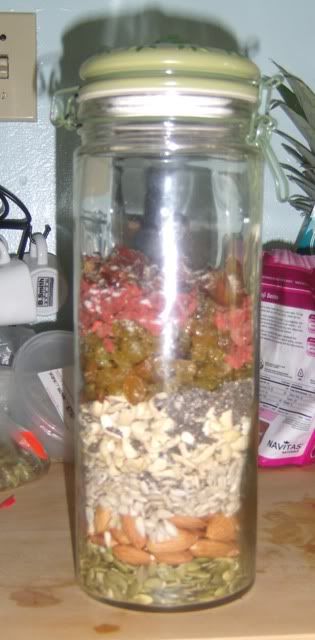 Dinner
:
Waldorf Salad
. This was a delicious and unique salad! I've never had Waldorf Salad before, so I have nothing to compare it to, but this was really tasty. We used a lot of grapes and left the agave nectar out of the dressing. Also, I ran out of walnuts, so those weren't included, and also ran out of celery but used a small, crisp cucumber instead. We would definitely make this salad again!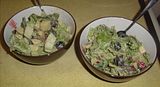 Nick and I are going to be doing a little side experiment of raw living next week, so stay tuned for the menu and grocery list. I am exhausted tonight and didn't have time to do it, so it will be the first thing I do when I wake up in the morning. Then we're going for a bike ride! And then we'll be doing homework for the rest of the day. Oh joy. :P
P.S.
I forgot to mention! My quinoa and green lentils have SPROUTED!!! Still waiting on the sesame seeds. I will take a picture tomorrow when the sprouts are a little bigger and easier to see. Good night!