I am so excited to try my hand at growing sprouts!! In yesterday's blog post, you can see that I soaked three different seeds: quinoa, sesame, and green lentils. Today, Nick made a beautiful wooden sprout rack to hold our sprouting jars! And so the sprouting adventure officially begins!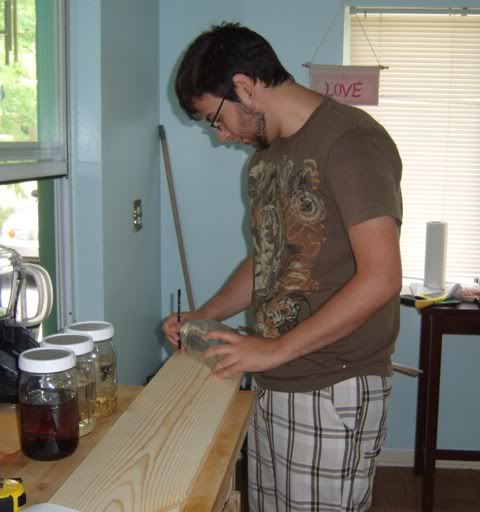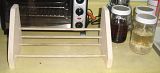 Ta da!! Isn't it just lovely? Now my little sprout jars can hang out upside down to drain out all the moisture and gets lots of air circulation! (For a great video showing how you can grow your own sprouts, see "Sprout Growing How-To Video" over to the right of this page, underneath the title "RAW Links".)
Breakfast
:
StRAWberry Banana Ice Cream
. After last week's
Banana Soft Serve Deliciousness
, we were very excited to try another raw version of ice cream. We followed the recipe exactly, even down to making the very creamy, very yummy cashew milk.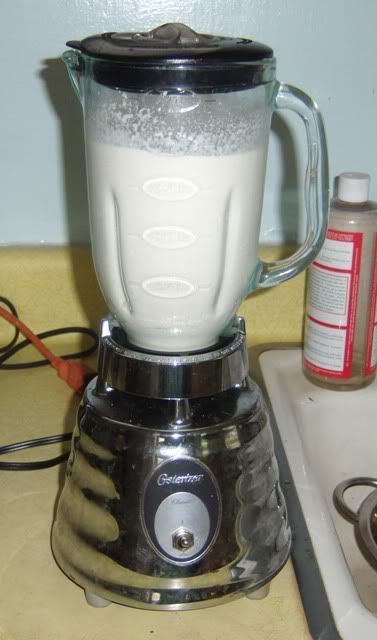 However, using the blender DID NOT MAKE ICE CREAM. It made a smoothie. A delicious, sweet, creamy smoothie, but a smoothie nonetheless. So next time, we will use the food processor (like we did last week) and hopefully get a fluffy, creamy, actual ice cream consistency.
Lunch
: Cucumber Boats with
Leftover Raw Pecan Chard Pate
. That pate we had for dinner yesterday was so good, that we ate the leftovers on cucumber boats for lunch today. It was a savory and satisfying lunch, and I'm sad that there's no more pate left! We will definitely make it another time, though. It was just so tasty...and so green! Yay chard!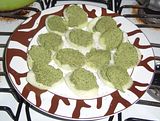 Dinner
: Spinach, Banana, & Cashew Milk Smoothie. So simple and so good. We had this yummy green smoothie last week and wanted it again for dinner tonight. To make it, just blend frozen
ripe
bananas with a few handfuls of baby spinach, some nut milk (almond, cashew, whatever...you could even simply use a little water), and some cinnamon to taste. Definitely one of my favorite smoothies!
(This photo makes the smoothie look yellow, but it was a beautiful green color in real life.)
Nick's mom is coming over with a friend for lunch tomorrow, and we will be making Raw Zucchini Spaghetti with Walnut Meatballs! That meal was just so amazing when we made it last week, so we're both excited to share it with others. See you tomorrow! :)