Thank goodness!! Today was much better than yesterday. :)
Before I get into the "meat and potatoes" part of this post (har har), I wanted to mention that I feel there are some possible "detox" and/or withdrawal issues going on today. Now, I don't know if I believe that our bodies need to detoxify or even that we are toxic to begin with. But, there were some weird symptoms going on in both myself and Nick today, and I'm not sure what to call them. Like yesterday, I have been fighting a headache almost all day today, and I don't believe it is from dehydration. I also experienced hunger pains today...about an hour or so after drinking my breakfast smoothie, I was RAVENOUS. I held out til lunch no problem, but the hunger was physical and real. I think I needed to put more protein in the smoothie...? Anyway, later in the evening, before dinner, Nick started feeling a little woozy. We promptly went home and snacked on fresh pineapple and almonds, and he immediately felt better. So yeah, call this what you want...detox, withdrawal...I dunno. But, the symptoms are real.
Sooooo...for breakfast we had a
carrot, kale, and flax smoothie
. Now, let me preface this by saying that I love smoothies, so does Nick, and we drink them quite often. My usual smoothie recipe is almond milk, frozen banana, frozen blueberry, peanut butter, spirulina, sometimes raw cacao, and honey. Pretty basic, very sweet, and really delicious. So, I dunno, I guess I thought today's smoothie would follow suit and taste just as awesome. But, it didn't. Something (the kale?) did not blend smoothly, and the smoothie was more like a chunkie or chewie. Also, I'm not used to not having some kind of protein in the smoothie (usually in the form of peanut butter), and that made the texture different. The taste was not bad, but it was not sweet, and I am still a sugar addict. Next time, at the advice of a friend, I will use baby spinach for the greens, and will add more banana, a little honey, and some cinnamon. So yeah. That was breakfast. Meh.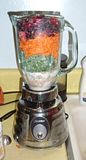 By the time lunch got here today, I was dying for something crunchy. Totally tired of mushed up, blended up, squished up food. So today's recipe of
Raw Tacos
sounded delightful. Nice crunchy collard green leaves with some savory ground sunflower meal (we tweaked this a bit and added salt, chili powder, and garlic powder), red pepper, and avocado inside, and all topped with salsa. The salsa was not raw...it was Newman's Own from a jar, but we already had it on hand and did not want to waste it. The whole meal (3 raw tacos) was very filling and satisfying, and tasted great. We had lots of nut meal left over, so it's in the fridge waiting to be turned into something else.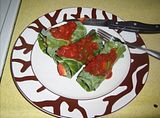 After a yummy snack of fresh pineapple and almonds, we started marinating mushrooms and processing cauliflower for dinner:
Steak and Potatoes
. Wait, what? It wasn't really steak and potatoes, of course, but it had a similar look. It was actually marinated mushrooms with mashed cauliflower. We also bought some fresh English Peas from our local grocery store, and after marinating them in a bit of apple cider vinegar, nutritional yeast, salt and pepper, they went on the dinner plate with the rest of the food. Dinner was pretty good, but I felt the mushrooms were too salty. Next time, I will use much less tamari. But yes, there will definitely be a next time. :)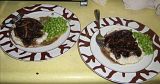 I'm starting to think that I don't really need dessert every day, but I'm really enjoying making all these new foods...so dessert is here to stay, for now. Tonight's yumminess was
Raw Halvah
. I actually don't normally enjoy the halvah that you can buy at health food stores...I don't like the texture of the sesame paste. But this recipe called for whole raw sesame seeds (we bought the raw black sesame seeds, so ours looks different than in the original recipe), not ground into a paste, and the texture was good. We made way too much chocolate ganache (is it possible to have too much chocolate?), and so the "frosting" was really thick...and delicious. Nick agrees that this was one yummy dessert. I'm excited to have another little piece tomorrow.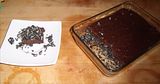 Overall, today was a pretty good day! We are still excited about this raw food adventure, and can't wait to make tomorrow's recipes. I've found that having your meals planned out for the week and knowing that you have all the ingredients in your house makes for less stress surrounding food, less boredom eating, and less emotional eating. Regardless of your dietary lifestyle, planning out your weekly meals seems to be a very practical idea indeed.