Breakfast
: Half a honeydew and a banana (two bananas for Nick). This was delicious but not enough food! However, we ran out of bananas! So there was nothing we could do. Poor hungry bellies. I think I may have eaten a couple Medjool dates to take the edge off, lol.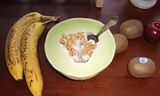 Later, I found an AWESOME website explaining how to make sure we never run out of ripe bananas again! Here it is:
The Art of Fruit Ripening
.
Lunch
: Whatever Veggies Are in the Fridge Salad. This was a tasty salad!! Romaine lettuce, baby spinach, my own sprouted lentils, jicama, tomato, yellow bell pepper, soaked sunflower seeds, zucchini, olive oil, balsamic vinegar, nutritional yeast, and a little bit of tamari. So good!!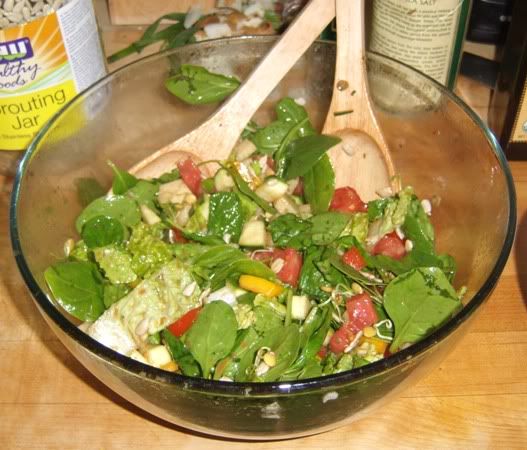 Afternoon Activity
: Saying good-bye to my kombucha. I made a couple great batches of kombucha, but haven't drank it in a long time. So my most recent attempt, a kava kava kombucha experiment, kinda just sat on the kitchen table for the past few months. The scoby did WONDERFUL and just grew and grew. But, because I don't anticipate drinking kombucha again, it was time to say good-bye, and so I gave my scoby to the earth in the backyard.
That thing was at least 2.5 inches thick.
Dinner
: Whatever Fruit Is Left in the Fridge Salad. Yum! Strawberries, orange slices, kiwi, and grapes.