Today was a nice, laid-back day full of tasty raw food goodness!
Breakfast
was Carrot Apple Walnut Salad. I didn't follow a recipe, but I've seen a similar salad brought to potlucks and such, although I think those recipes used mayonnaise. I simply grated two large carrots and two golden delicious apples, then mixed it in a bowl with chopped walnuts, golden raisins, a little bit of olive oil, the juice of half a lemon, about a tablespoon of nutritional yeast, a drizzle of agave nectar, and a sprinkle of cinnamon. It was a good, crisp breakfast, but the color was definitely lacking. It needed something green! Nick enjoyed it, but said it was a bit plain for his taste. I may make it again and try to improve on the recipe (and find something green to go with it...maybe fresh mint?).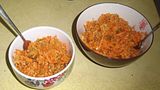 While waiting for lunchtime, I decided to mix up some yummy trail mix. I used pumpkin seeds, sunflower seeds, almonds, cashews, raisins, goji berries, and some sea salt. I was skeptical because I normally only like trail mix if it has chocolate in it, but this was actually really, really tasty! The combination of the sweet raisins and the sea salt was just delicious. I made a big jar of it to snack on throughout the week. Nick took some to work and said it was satisfying and good.
Lunch
today was a Green Goddess Smoothie. Again, I didn't follow a specific recipe, but did take some pointers from my friend Priscilla who also eats a mainly raw food diet. I put two frozen bananas, a couple handfuls of baby spinach, some frozen strawberries, and a dash of cinnamon in the blender and whipped it into a beautiful green liquid. Oh, and I added a bit of almond milk to make it more blendable. I couldn't believe how sweet it was! We didn't put any raw honey or agave in it, but the bananas made it incredibly sweet! Almost too sweet, but not quite. It was satisfying and held me over for a while. Below you can see Nick enjoying his green goddess!! ;)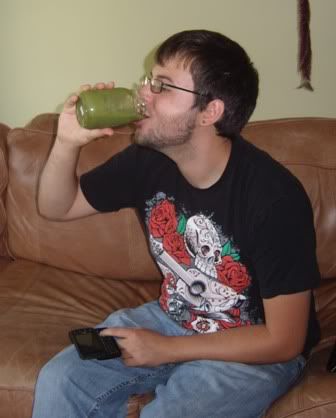 Dinner
tonight was pretty fantastic:
Spicy Veggie Raw Food "Stir Fry"
. I used our food processor to turn parsnips, carrots, and pine nuts into "rice", and then marinated the mushrooms in tamari for about an hour. Mixed the sauce ingredients in the blender, and then added it along with chopped broccoli to the "rice" and mushrooms. The taste was unique and yummy, and both Nick and I ate big bowls! I even have some leftover for tomorrow. :)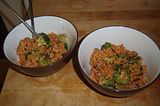 Overall, it was another great raw day! I'm excited for tomorrow because dessert will be banana soft serve ice cream and chocolate sauce!