I am exhausted because it is after 2 in the morning! I hate staying up this late, but Nick's work schedule lands him home at around 11:30pm, then we eat dinner, then we clean up, then we spend some time with each other, and before you know it, it's 2am. I keep telling myself that it won't be forever, though, and that helps.
Breakfast
:
Blueberry Fool
. This was our first ever raw food meal, and we loved it so much that we had it again today. Delicious, filling, satisfying. I love nut yogurts. :)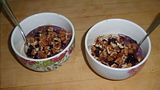 Afternoon Activity
: Bonsai Creation and Sunbathing. Just before Yule/Christmas, Nick and I bought a baby Southern Red Cedar (a Juniper, in actuality) from a live Christmas tree farm.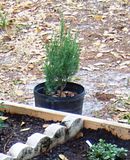 It's been growing happily in its pot since then, and today, Nick turned it into a bonsai!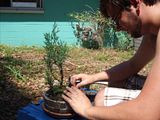 Isn't it beautiful? My sweet man has talent! ♥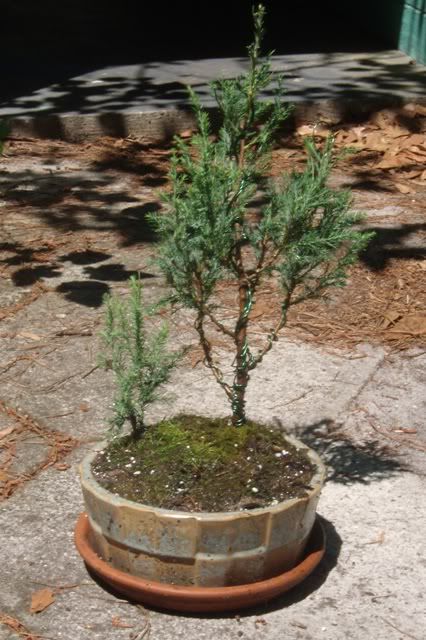 Lunch
:
Summer Citrus Salad
. I modified this recipe a bit because I am not a fan of arugula, so I used spinach instead. Also, we had half an avocado leftover from our sushi dinner last night, so that went into the salad. Didn't feel like slivering almonds, so I used sunflower seeds. Don't like red pepper flakes/seeds, so sprinkled with cayenne in its place. And the salad turned out great! However, we were in a hurry to eat because it was almost time for Nick to go to work, so I ate half my salad before I remembered to take a photo! So here it is, half eaten! Haha!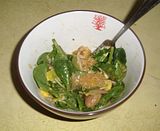 Dinner
:
Marinated Broccoli and Mushrooms
. This turned out really tasty. I put it together after breakfast this morning and let it marinate in the fridge all day, tossing it occasionally. I used pine nuts instead of sesame seeds and we both really liked the results. The meal was filling and flavorful. We would make it again, but next time, I will use less agave, as it was a bit too sweet for my tastes. Overall though, it was a good, satisfying meal!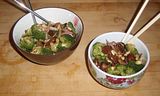 Dessert
: Coconut Mint Brownies. This recipe is from the Raw Foods Witch's dessert ebook that you can download for free from her website. The brownie base is made by blending up walnuts, dates, cacao powder, and vanilla extract. The coconut cream topping is made up of unsweetened shredded coconut, peppermint extract, honey or agave, and a bit of coconut oil. I used my food processor and had to scrape down the sides a few times, but the results were a smooth-textured, delicious brownie that we will most definitely make again! Very yummy and just enough sweetness.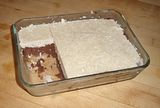 I wanted to talk more about a raw food lifestyle tonight, but I've run out of time and am just too exhausted. Stay tuned, though, as I've got some interesting stuff to share tomorrow! Good night! :)