Well, not every day can be a success.
Today's menu was just poor planning on my part. Not much fresh crunchy stuff, but lots of mushed-up blended stuff. I'm hoping tomorrow goes much better.
I do want to mention something, though. I've struggled on and off throughout my life with compulsive overeating, and I have trouble staying full. Normally, I eat a meal and I'm hungry again half an hour later. I'm positively addicted to sugar, and often snack on copious amounts of chocolate when the cravings hit. But, maybe it's just all in my head...but both yesterday and today, I have had absolutely no problems staying "full" (maybe satisfied is a better word?) between meals, and my cravings have pretty much disappeared. A classmate brought donuts to class this morning, and I literally did not want one. That's insane for me! I always want donuts! And then, I provided Oreo cookies for snacks tonight at the childbirth class that I teach, and again, no cravings! I did not want an Oreo! This is strange...we shall see if it continues as time goes on. :)
So for breakfast today, Nick and I had
buckwheat porridge
. It was hearty and filling, and I would eat it again. Next time, though, I think I will make a bit more of the porridge and only cut up one apple. I think it would also be good with bananas or strawberries. I will say, however, that the buckwheat has an...interesting...flavor. While I was soaking it last night, the smell kind of reminded me of a chlorinated swimming pool (weird, right?), and the taste is unlike anything I've tasted before. It wasn't something that makes me go "Mmm...I want some of that tasty buckwheat porridge right now!", but it wasn't bad either. And again, it was hearty and filling, which is important in a breakfast. Nick said he'd eat it again, but it definitely wasn't on the same level of goodness as yesterday's "Blueberry Fool".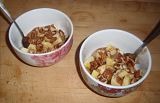 I think I liked lunch better than Nick did. It was called
Fruit Stew
, and it was the first fruit based soup I've ever had. The smoothness of the stew base was delicious, in my opinion, and the chopped up fruits and veggies added a nice combination of texture and flavors. The diced jalapeno was HOT, as were the red pepper flakes. I had never had papaya seeds before, and have discovered today that I do not like the flavor of them. If I were to make this stew again, I would not use the red pepper flakes or the papaya seeds. Other than those two things, I thought the stew was really yummy. Nick only thought it was "okay", and said that he would eat it again, but as a side-dish instead of a main course.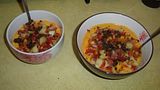 Dinner was NOT GOOD. But that is entirely my fault. It was supposed to be
Raw Samosas
, and my silly little self did not realize that this recipe called for a dehydrator--which we do not own. So after processing all the ingredients in our food processor, we were left with a vegetable mash that tasted like spicy samosas, but did not have the texture that the food appeared to be in the original recipe photos. Also, food processors do not blend red pepper flakes, and the heat was too much for me. Nick ate most of his, but I only ate a few bites before realizing that I just didn't like it. The recipe called for this sweet mango sauce to be poured on the samosas...we used some of it to eat with the samosa mush, and then the rest of it was turned into dessert. Here is a photo of the samosa mush...before the rest of it went straight into the compost heap.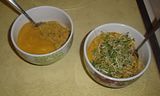 The leftover mango sauce was turned into a delicious tropical banana dessert. The one true success of the day!! Basically, the recipe was mango blended with some agave and water to make the sauce, poured over chopped bananas, raw cashews, and some coconut flakes. It was sweet, smooth, and delicious. Exactly what we needed after a not-so-great second day of eating raw. Hoping tomorrow will be better! :)