I am so sleepy! It's been an absolutely crazy week filled with studying and final exams...hence the reason I'm behind on blogging again! Today is actually day 26, but I won't be able to blog about today until tomorrow. Ha!
So, firstly, I'd like to present to you...my first
case
of bananas. A 40 pound case of bananas.
For only five bucks.
Nick and I have many, many smoothies in our future. :)
The Day Before Yesterday's Breakfast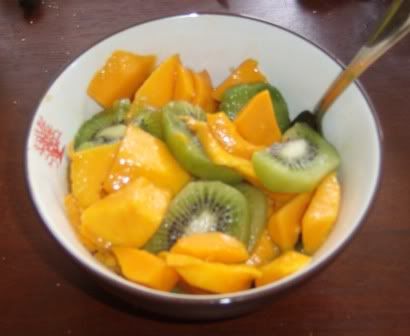 The Day Before Yesterday's Lunch
: Cherry Banana Ice Cream.
The Day Before Yesterday's Dinner
: Sushi again! Our favorite!!
Nick and I went out to eat the day before yesterday, for the first time since starting our raw food adventure. Our friends Helen and Tommy invited us to
Boca Fiesta
, an awesome little bar/restaurant here in Gainesville. We were a little apprehensive when they invited us, mainly because we didn't know what we could eat there...and we were worried that we'd really miss their mojitos! But we went out, ordered their "Build Your Own Guacamole" and two veggie salads, and then put the guac on the salads. It was great! And we had a really awesome time with Helen and Tommy. So glad we went. :)
Yesterday's Breakfast
: Sapote Mango Blueberry Pudding. OMG, yum. So it was our first time trying mamey sapote and although it was perfectly ripe and the flavor was fantastic, it is kind of a dry fruit, so we decided to whip it up into a pudding. It was just delicious.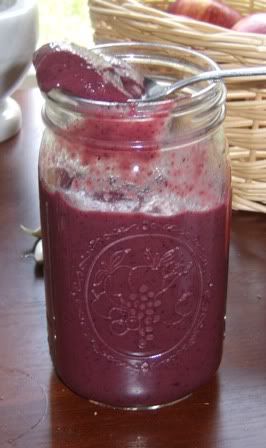 Yesterday's Dinner
:
Vegetable Noodle Stew
. My avocado was not ripe, so I used four tablespoons of tahini instead. Oh, and I used no salt or pepper...the celery and tomatoes were salty enough. This stew turned out great. We LOVE zucchini noodles!!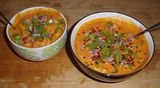 Oh, btw...Nick and I bought those crazy toe shoes today and we love them!! :D