Once again, I have lots that I originally wanted to blog about regarding raw foods, but it's almost 3am and I have got to get some sleep tonight.
So! I will make a point to blog about that stuff tomorrow. :)
Breakfast
: I had a prenatal appointment to go to with my preceptor midwife this morning, and as usual, I was running late. So breakfast consisted of about 6 or 7 almonds and a banana. But you wanna hear the weird thing? I ate the almonds first, and then started eating the banana (on the way to the appointment), and when I was almost done with the banana, I realized that I was full.
Full??
After some nuts and a piece of fruit?! Strange things are happening to my body, and I think I like it. Overeating was a big problem for me in the past, and I'm starting to think that I might just be able to overcome it after all.
Lunch
: Jicama Chili Salad with Cheezy Celery. I don't have a recipe for this salad because I just kinda threw it together. But it was TASTY and different. Sweet and spicy. The salad was made up of baby greens, sunflower sprouts, chopped jicama, one chopped orange, a handful of fresh blueberries from the farmer's market, some chopped sweet bell pepper, and an avocado. Dressing was extra virgin olive oil, coconut vinegar, chili powder, and salt & pepper. Very yummy! I also spread that leftover Brazil Nut Cheez from yesterday onto celery sticks as a tasty compliment to the salad. Lunch was SUPER filling, and kept me satisfied til dinner.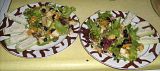 Dinner
:
Raw Pecan Chard Pate Nori Rolls
. I modified the pate recipe a little bit by reducing the pecans to one and a half cups and substituting a zucchini for the other half cup. And I used a TON of chard leaves...like 7 big giant ones. So my pate came out GREEN, whereas the photo in the recipe shows a white pate. Anyway, it was DELICIOUS in the little nori rolls, and extremely filling. We have a lot of the pate leftover, which will be served with cucumber slices for breakfast tomorrow. :)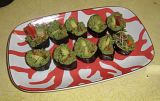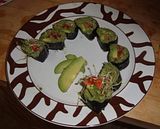 SPROUT TIME
!!! Yay! I am so excited to finally be getting my sprouts, well, sprouting! I looked EVERYWHERE for stainless steel wire mesh to make my own sprout jar lids but could only find aluminum. So finally, I bought just the lids (already had tons of canning jars) from
SproutPeople.org
, a fantastic resource for those interested in growing their own sprouts. The lids arrived today, and so as you can see below, I wasted no time getting my sprout seeds soaking! From left to right is sesame seeds, quinoa, and green lentils. I AM SO EXCITED FOR MY SPROUTS TO GROW!! ♥