I can't believe this is the last week of our One-Month Raw Vegan Adventure! Nick and I have had a lot of fun discovering new recipes and eating so healthy. Our skin has cleared up exceptionally, our energy levels have really gone up, and we have lost a lot of weight. So far, in three weeks, Nick has released 12 pounds and I have released 10. IN ONLY THREE WEEKS...and that's been solely by stuffing our faces with fresh raw food. Nothing else has changed, not our lifestyles or exercise routine!! This is amazing, amazing stuff. I am very happy. :)
Here is Week 4's Meal Plan: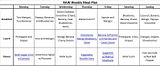 Lots and lots of fruit again this week! In fact, I'm hoping for almost an 80carb/10protein/10fat percentage ratio. It's not quite perfect yet, though, but it's getting there. Mmm...I am really full of mangos and bananas right now.
And here's the grocery lists for the week. I like how they're getting smaller as the quantity of fruit gets bigger. :)
Today's Grocery Shopping List
:
2 or 3 Bunches of Bananas
2 bunches of grapes
3 large red bell peppers
2 zucchinis
4 large tomatoes
1 bunch cilantro
romaine lettuce
baby spinach
4 little cucumbers
one bunch chard
2 ripe pears
Portobello mushroom caps
sprouts
sugar snap peas
green onions
one little parsnip
fruit to snack on (oranges, peaches, pluots, etc.)
2 packages dried dates
2 lemons
Oh, and dish soap. ;)
Wednesday's Grocery Shopping List
:
Possibly more bananas
One case champagne mangos
One large watermelon
strawberries
jicama
5 zucchinis
5 tomatoes
celery if needed
one pack fresh basil
4 lemons
one bunch chard
one large bunch grapes
kiwis if needed
nori
sprouts if needed
2 red bell pepper
Portobello mushroom caps
fresh Thai coconut OR coconut manna
one small papaya
one bunch kale
Yay for raw food goodness!! ♥