So...today's food was amazing. No joke, folks. In fact, it was so good, that I'm not even gonna have much to say about it all, so I'll just get straight to the meals.
Breakfast:
Cashew Coconut Pudding
. The only thing that I did differently was topping this yumminess with blueberries instead of raw cacao nibs. It was very, very rich and kept me full and satisfied til lunchtime. We would make this again.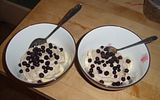 Lunch:
English Pea Salad with Leftover Raw Taco Nutmeat.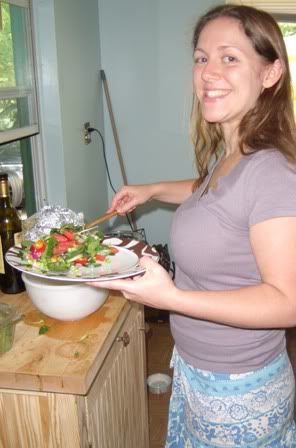 Hmm...I guess there's really no recipe for this one. We used the leftover english peas from last night's dinner and added them to a ginormous salad made of baby spinach, cucumbers, sweet red and orange peppers, purple onion, and sunflower sprouts and then tossed it all in extra virgin olive oil and lemon juice. Then we complimented it with the leftover raw taco nutmeat from yesterday's lunch. It was a delicious and satisfying meal. Yummy crunchy goodness!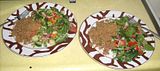 Dinner:
The Best Raw Meal in the World, aka Zucchini Spaghetti with Walnutmeatballs
. I'm not exaggerating. This meal was BY FAR the most amazing raw meal we've made thus far. I just...have no words to describe the flavor and texture combination. The sauce was thick and zesty, the zucchini pasta was crisp and good, and the walnutmeatballs were OUT OF THIS WORLD. OMG. All those flavors mixed on one plate equaled two very happy raw food adventurists! Nick and I give this recipe five stars!!! It is definitely going to be a staple around here. :)
There's truly not much more to say. I think today has been my favorite raw day so far. Looking forward to more yummy raw goodness tomorrow!