Since I've already made two other raw blog posts today, I'm going to keep this one simple. Raw food good. Yum.
Breakfast
:
Pineapple Chunks with Cashew Cream
. Delicious. Satisfying. Very filling.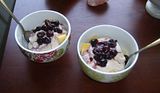 Lunch
: Sunflower Sprout Salad. No recipe for this one...I enjoy creating tasty, colorful salads. I simply combined baby spinach, tomatoes, cucumbers, scallions, corn, red bell peppers, sunflower seeds, sunflower sprouts, nutritional yeast, balsamic vinegar, and extra virgin olive oil in a big bowl, mixed it well, and served it up. I love a good salad, and this one was really tasty. Nick loved the dressing!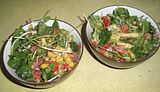 Dinner
:
Spicy Gazpacho
. Well, the original recipe actually wasn't spicy, but I wanted spice, so I added half a medium jalapeno pepper and some chili powder. I also used about five sundried tomato halves in place of one of the raw tomatoes. Our avocado had gone bad, but we did top the soup with some fresh parsley from our garden. I drizzled a little olive oil on Nick's soup, too. It was zesty and savory. Really yummy. I do prefer my gazpacho not entirely blended, though, so next time I will only blend half the ingredients, and then chop the rest and mix it into the soup.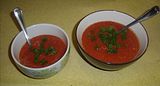 Dessert
:
Banana Soft Serve Ice Cream with Raw Chocolate Sauce
. Umm...I don't really have the words to describe this. FOLKS, THIS STUFF MADE ICE CREAM. Use a food processor, not a blender, and make yourself some DELICIOUS, CREAMY, DAIRY-FREE, SOY-FREE, PRESERVATIVE-FREE ICE CREAM. I'm still a little in shock about this one. Nick's response was, "Really? I mean...really??" Because, seriously, this is what the ice cream industry does NOT want you to know. This dessert was incredible.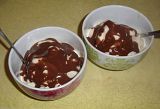 And now, off to bed with a full and happy tummy. :)