I can't believe tomorrow is already Saturday AGAIN and it will be time to make the week's meal plan and grocery lists AGAIN. Wow! Time is flying by!
Oh, and I was quite happy today when I saw a package in my mailbox! The book I ordered last week,
"The 80-10-10 Diet" by Dr. Douglas Graham
was finally here! I read it most of the evening and just keep finding myself nodding my head in agreement. His writing style is great, and I especially enjoyed chapter one. I will definitely keep everyone updated as I continue to read through the book. :)
Breakfast
: Half of an approximately 10 lb watermelon. Yep, you read that right. I didn't weigh the watermelon, but it was pretty heavy, and Nick and I each ate half for breakfast this morning. It took me about an hour and a half to finish mine, but I did it! OMG, and it was the best watermelon I've had in so long! So sweet and juicy and dense. I wish I had bought two of them! Maybe I will go to the Asian grocery store tomorrow and pick up another one. That's how good this thing was.
(This photo makes them look flat. They weren't.)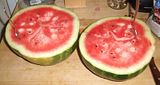 Lunch
:
Zucchini Hummus and Veggies
. Alright, so here's the deal. The consistency and texture of this zucchini hummus was GREAT! If I would have known you could make kickass hummus with zucchini instead of chickpeas, I would have done it long ago. Anyway, the recipe itself, in my opinion, needs a bit of tweaking. I normally love curry, but the flavor combo of this hummus was a little weird. Next time, I think I will make a more Mediterranean-flavored hummus by leaving out the curry and using some basil, oregano, and sundried tomatoes or something. I'll experiment with it a bit and see how it turns out next time.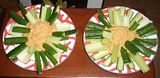 Dinner
:
Spicy Ginger Springrolls
. Hey, these were really good and they looked neat, too!! We used chard instead of collards because our local grocery store didn't have any good looking collards, and they came out great with the chard! Inside our springrolls were marinated shiitaki mushrooms, bell pepper, sugar snap peas, purple cabbage, avocado, and scallions/green onions. Fresh wasabi and tamari to dip them in and YUMMY!! Delicious.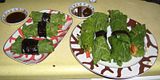 I really hope our gazillion bananas are ripe tomorrow! I want bananas! And now it is after 3am and I'm going to bed. Night!