Dudes...today, Nick and I ate durian fruit for the first time.
But first...
Breakfast
: Mango Banana Dream. We made a similar dish after our raw samosa mishap, only that time, we topped the bananas with a mango puree. This time, I wanted to eat mango chunks, so we chopped all the fruit, put it in a bowl, and topped it with raw cashews and shredded coconut. Divine!
Now, back to the durian. What is durian?--you ask. You may remember this fruit as being the only food Andrew Zimmerman (from the show "Bizarre Foods") would not take a second bite of, after he gagged and spit out the first bite. He bit off more than he could chew! (Har har.)
You may also have heard stories of durian...that mystical tropical fruit that is banned from some airports and not allowed to be eaten in some outdoor (yes, outdoor) cafes (This is a Durian-Free Zone!).
So, I'm here to tell you that a lot of what you hear is major hype. Nick and I went to our local Asian market this morning, picked a nice, ripe-looking durian, paid 8 bucks and change for it, and brought it home. And at lunch time...we cut it open and tried it for ourselves.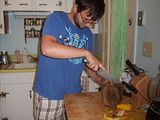 The smell of the fruit before it was opened was very much like an over-ripe cantaloupe that has been sitting in the sun for a long time. It didn't smell like sewer, rotten onions, or horribly smelly feet--all descriptions that I've heard used before.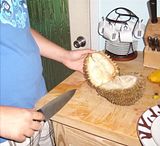 The inside of the durian had a more pungent odor. But again, it was more like over-ripe cantaloupe than anything else. It wasn't repulsive, it was just different and strong.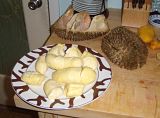 Above is the durian flesh after it has been removed from the spiky shell. In your hand, it feels like egg custard that has a thicker sort of skin surrounding it. If you peel the skin/membrane off, the inside is like very soft custard/pudding.
The photo above is Nick's first taste of durian. He kind of only licked it here.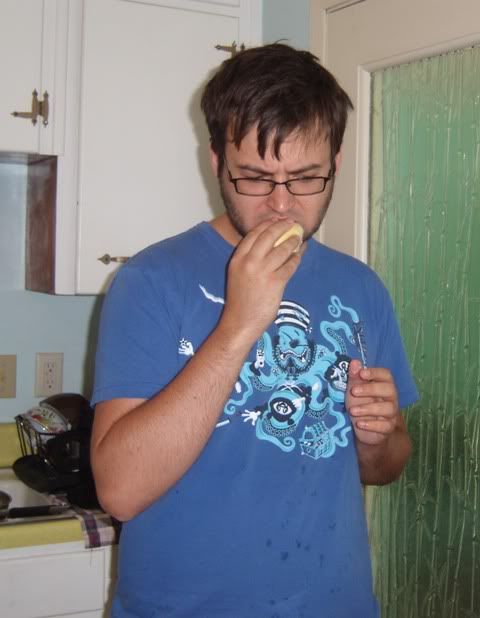 As you can see, his first actual
bite
was a bit more intense than the first lick/taste.
Haha!! So here's me taking my first bite! And here's what I can share about the experience. When I first bit into the flesh, my senses were overloaded with the very pungent, almost egg-like odor of the durian flesh along with a SUPER sweet taste. If I had been silly (like Andrew Zimmerman) and taken a huge bite all at once, it may have been too much for me and could have caused me to immediately spit it out. But because I took such a little bite, I was able to really
taste
it without judging it based on the combination of smell and flavor. And the flavor truly is hard to describe. Once you get past the smell, the taste is kind of like really sweet mangoes and bananas combined. But, the skin of the flesh...the membranous part...really does have an egg-like odor, kind of sulphur-y. So...I kind of cheated. I peeled the membrane/skin off the durian flesh, and then simply scooped out the pudding-like inside. That way, I got the sweet taste without the egg smell. :)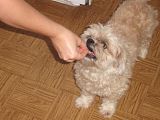 Panda Bear, however, LOVED the skin of the durian flesh, and because I had so much of it after peeling it off my pieces, I fed a LOT of it to Panda. He kept coming back and begging for more!
Oh, and it has seeds, see?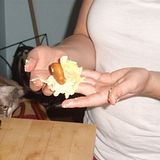 So...would I eat durian again? I have a friend who once told me that it took him a few times of experimenting with durian before he started to like it, and now he can't get enough of the stuff. (Thanks, Tim, for the great suggestion!) So I've decided to buy it again in a month or so, taste it again, and go from there. I did not hate durian, but it was an intense, unique experience that may take some getting used to. So we'll see what happens in the future!
Lunch
: Raw Leftovers. I had some fresh english peas marinated in apple cider vinegar, nutritional yeast, and salt & pepper, along with leftover Beet Love Salad, and some portobello mushrooms marinated in Braggs, sesame oil, and a little bit of vinegar. Great lunch that balanced my taste and smell sensations after eating that durian. ;)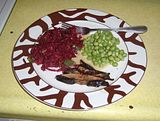 Dinner
:
Salad with Brazil Nut Cheez
. Remember last night when I blogged about making brazil nut cheez? Well, it was finished today, and we topped our salad with it. It turned out delicious and creamy with the texture of goat cheese. We will definitely make it again! I'm looking forward to spreading it on celery sticks as a snack tomorrow.
I'd say today was an AWESOME day filled with yummy, interesting raw foods! Looking forward to another great day tomorrow. :)