OMG. I'm sure as heck hoping that meal planning doesn't take this long next time. I think it took so long this time mainly because it will be our first week doing raw vegan goodness, and I wanted it to be special. I'll tell you what...the second week, we'll be eating mostly raw fruit, nuts, seeds, and veggies in their whole, non-chopped, non-prepared form. I mean, really, this week's meal plan took me probably four hours. But hey, I'm kinda new to this, so I'm giving myself a break.
Here it is (clicky clicky):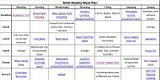 Sunday's Grocery List:
Goji berries
lots of pitted dates
4 cups cashews
3 cups almonds
3 cups walnuts or pecans
2 cups pumpkin seeds
3 cups sunflower seeds
1 cup pine nuts
2 cups sesame seeds
shredded coconut
carob powder
coconut butter
raw agave
bragg's liquid aminos or Nama Shoyu
wasabi powder
sun-dried tomatoes
1 bag frozen fruit (strawberries, mangoes, etc.)
2 bunches bananas
5 lemons
2 apples
1 large bunch carrots
1 bunch kale
1 bag frozen cranberries
2 mango
1 small papaya
2 cucumbers
5 medium red bell peppers
3 jalapenos
2 limes
1 small bunch collard leaves
2 ripe avocados
2 oranges
1 small bunch celery
2 large tomatoes
1 bunch cilantro
2 heads cauliflower
1 sweet potato
1 zucchini
3 large portobello mushroom caps
Wednesday's Grocery List:
2 apples
baby spinach
4 oranges
beansprouts
fresh basil
8 tomatoes!!
2 cloves garlic
1 cucumber
1 bell pepper if none left
green onion
fresh parsley
4 medium zucchini
3 ripe avocado
more walnuts
more cashews
more dates
almond milk
1 bunch parsnips
1 head broccoli
another bunch carrots if necessary
mushrooms
nori seaweed
1 cup chia seeds
1/2 cup pecans
1/2 cup raisins
Whew!! Yes, I realize those lists are ginormous. However, this will not be the norm for the rest of the month. I really wanted to go all-out for this first week to truly excite our tastebuds and see how tasty eating raw can be. And I figure, hey, why not? Ya know? The next three weeks will consist of much simpler fare (more smoothies, salads, and whole fruit), and much smaller grocery lists (hopefully).
Alright, now off we go to the grocery store. Oh! One more thing! We already have a kickass blender. Nick has been wanting a food processor for a while now, so we're gonna go ahead and splurge and get one. The only other things I want are a potato peeler (for making zucchini "pasta"), a garlic press, some wire mesh to make our sprout jars, and some ice cube trays. No dehydrator or juicer here!