I hope everyone had a wonderful day today, no matter what holiday (or no) you celebrate! ♥
I'm going to combine days 20 and 21 for simplicity's sake, mostly because I'm behind on blogging again. Also, Nick had to work today, and I went to my mom's house for Easter, so I didn't get to make any intricate recipes. But I do have a few photos to share.
Hmm...and I also want to mention that while I am trying my best to document breakfast, lunch, and dinner, I am not documenting any snacks at all. Nick and I eat lots of fruit between meals, and Nick snacks on trailmix at work almost every night. Because we're eating so much fruit lately, and fruit kinda speaks for itself, I'm really only documenting and taking photos of the meals that took some time to put together and make.
As for caloric intake, I am consuming about 1600 calories per day at this point, while Nick is consuming 2000-2200. Some days, depending on if we eat a meal high in nuts/seeds, avocado, olive oil, or coconut, we might get a LOT more calories...but it's averaging out to be the numbers above. How are we getting this many calories by just eating fruit and veggies? We've been gradually increasing our portion sizes. When we have fruit, we don't just have an apple or an orange. For example, I ate three mangos and an orange for breakfast this morning while Nick ate a smoothie that contained three bananas, a cup of frozen strawberries, a cup of frozen blueberries, and two cups of chard leaves. It ended up being a full quart of smoothie! And when we eat salads, we don't just have a dinky little salad on a salad plate. We eat a MIXING BOWL full of salad EACH. Yum. :)
This is a prickly pear: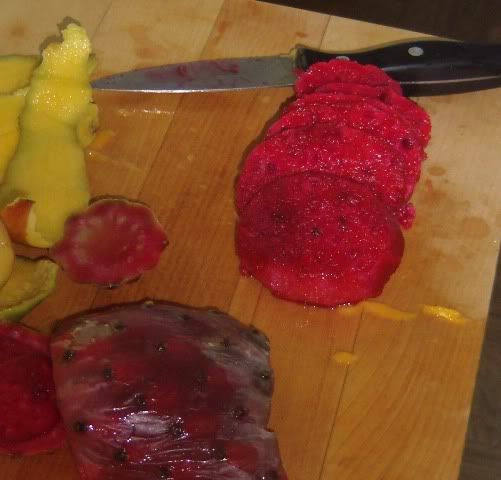 Nick and I bought it from our local grocery store a couple days ago, and tried to eat it for
breakfast
yesterday. Only, it tasted very bland, and I'm pretty sure I got an itty bitty cactus thorn stuck in the tip of my tongue. Also, it was full of very hard seeds, albeit edible. We didn't like the prickly pear, and so it went in the compost heap. We ate tons of mango for breakfast instead.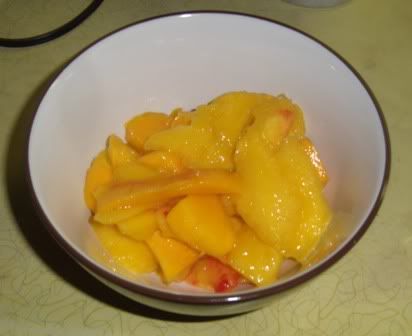 Yesterday's Lunch
: Just Your Average Salad. Romaine, baby spinach, avocado, tomato, scallions, purple cabbage, sugar snap peas, lemon juice, olive oil, salt & pepper, nutritional yeast. Yum.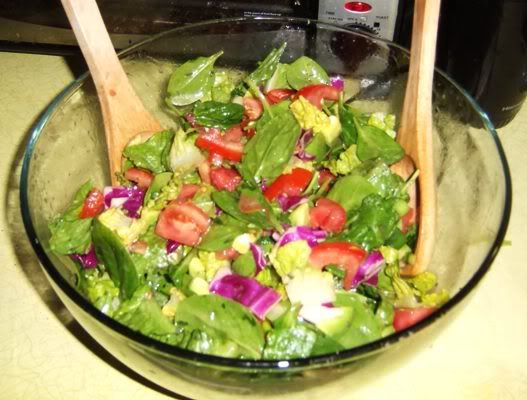 Yesterday's Dinner
: Green Goddess Smoothie! We blended up four bananas, a cup of frozen strawberries, a few handfuls of baby spinach, and a little bit of cinnamon. We didn't get a photo, but it was tasty. :)
****************************************
So today was Easter Sunday, and Nick had to work. I was very bummed that we couldn't spend the day together (probably not as bummed as Nick, though, since he's the one who had to work!), but I did have a wonderful time visiting my mom, her husband, my brother and his girlfriend, and my little nephew.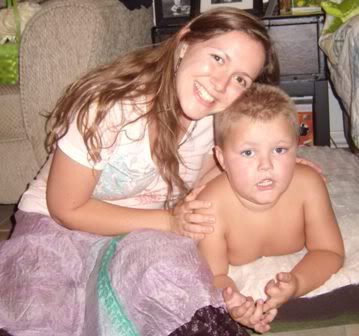 Before Nick went to work and I left for Mom's, though, we had
breakfast
. Nick's was that kickass smoothie I mentioned earlier in the post, and mine was the amazing three champagne mangos. Sooooo good!! Then, because Nick would be at work all day and wouldn't get a lunch break, I packed him lots of fruit to eat throughout the day: two peeled and segmented oranges, two sliced kiwis, two apples, two pluots (cross between plum and apricot), and a little baggie of trailmix. He later reported that the fruit was yummy and held him over til he got out of work!
Lunch
: Kickass Kale and Chard Salad. I brought my own "Easter Dinner" to Mom's house because they were having a traditional dinner of meat and potatoes, and I knew I'd get hungry eventually. This is key, folks! Bring your own food to things like this and you won't have to worry about whether or not there will be food for you to eat! Anyway, the salad was kale, chard, one garlic clove pressed through the garlic press, the juice of a large lemon, and a little sea salt--all of it squished and mixed with my hands to help the lemon juice break down the cell wall of the greens. This salad was very yummy, and my mom loved it, too!! I also brought two oranges with me, and then Mom gave me an Easter basket filled with fresh fruit. I stayed full until dinner!
Dinner
:
Zucchini Pasta Pesto
. Not much to say about this one other than the fact that it was AMAZING. The only thing Nick and I will do differently next time is make more of it!!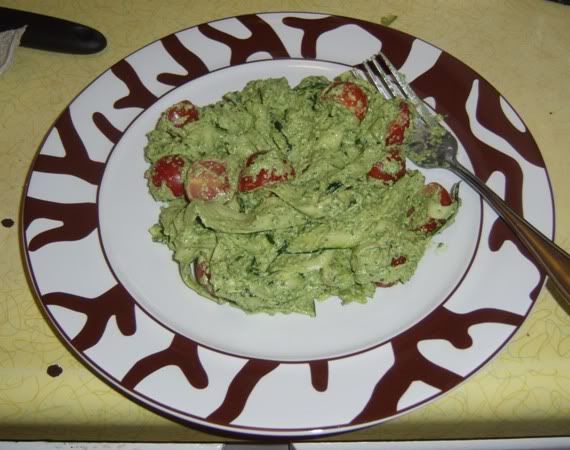 And off to plan the week's meals! Hope everyone had a great day! :)