Today was our 7th day eating raw vegan! What an adventure it has been so far! I am still really enjoying it, and definitely loving experimenting with all these different recipes. Also, for those interested, Nick and I weighed ourselves at our local Publix scale last Sunday...just out of curiosity (we always weigh ourselves there). Now, I want to be clear that I did not choose to go raw to lose any weight. However, both of us weighed ourselves today, after one full week of eating raw vegan, and were surprised at the results! Nick has lost five pounds, and I lost three! It's very strange...we are not trying to lose weight. We are eating a TON of food!! We haven't changed our exercise routine (we walk our dog for about 30-45 minutes around 4-5 times per week), either. I'm quite sure this is initial water weight loss, but am interested in stepping on the scale next Sunday, too.
Breakfast
:
Raw "Tapioca" Pudding
. I actually made this recipe with almond milk instead of cashew milk and refrigerated it overnight. When I woke up this morning, the chia seeds had expanded and formed a gelatinous overcoat...very similar to tapioca pearls! I loved this pudding, and would make it again, but Nick did not like it at all. I had forgotten that he doesn't like real tapioca either, and the texture was simply too much like "frog eggs" (his term, not mine). He ate about half the jar and then gave up and ate orange slices. I will say this, though. The chia tapioca pudding held me off until DINNER. We didn't have lunch today, and I had no cravings or hunger pains all day. Crazy.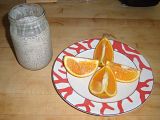 Dinner
:
RAW VEGAN SUSHI
!! (There is a great video included in that link, too.)
So...I've never made sushi before. Neither has Nick. This morning, I googled a few videos and found out that it didn't look all that difficult. We already had the food ingredients, including the nori, but bought the bamboo sushi rolling mat this morning while we were out and about. I was nervous because I didn't want to mess mine up, so I went really slow...and it turned out great!! Nick did his first, and his was great, too!
First, we made our parsnip "rice" and sliced up the veggies to go inside the sushi. We marinated the portobello mushroom slices in sesame oil, tamari, ginger powder, and garlic powder for about one hour.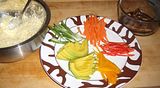 Then, we spread the parsnip "rice" on the nori sheet, and layered the veggies.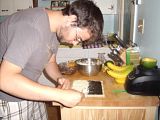 Like this, see?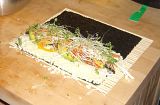 Then we rolled it up really slowly and carefully. You need to watch the video in the recipe link above to get a good idea of how to do it. It really wasn't difficult at all, and when we were done rolling, we had RAW VEGAN SUSHI NOM NOM NOM!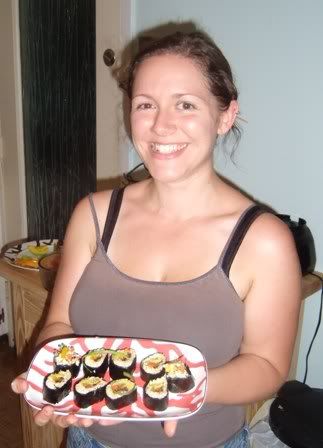 We are definitely going to make this again, however, we are going to experiment with different sushi "rices". We're thinking of trying jicama and pine nut "rice" to see how it tastes. The parsnip rice was fine, but it definitely tasted like parsnips, and we're looking for something a bit more mild. It was delicious nonetheless, and with some Braggs Liquid Aminos and wasabi paste, I felt like I had gone to a 5-star sushi restaurant! :)