Alright, planning Week 2's meals took a lot less time than planning Week 1's. Still a good couple hours, but at least it wasn't all day long! Also, after the initial investment last week, this week's grocery list should be a lot less pricey.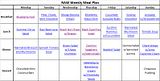 As you can see, I took out the "Snack" sections. We realized that planning snacks doesn't work for us, because really, we just want to snack on what we want, not what's written down. And sometimes we don't snack at all. I did, however, leave the dessert section, because I need to be sure that I'll get some raw chocolate goodness at least a few times per week. ;)
Sunday's Grocery Shopping List
Agave Syrup
2 Limes
3 oranges or blood oranges
1 grapefruit
1 bunch arugula
Raw Almonds
1 large jicama
3 medium beets
2 avocado
1 bunch cilantro
1 bunch Swiss chard
2 ripe pears
Two bunches red grapes
Hemp seeds
1 cup brazil nuts
dried basil
dried thyme
5 lemons
1 head romaine
Baby Spinach
4 tomatoes
3 red onion
1 red bell pepper
2 ribs celery
onion powder
2 honey mangoes
2 heads broccoli
2 packages mushrooms
Wednesday's Grocery Shopping List
5 leaves Chard
2 cucumber
4 avocado
1 carrot
5 tomato
1 cup sprouts
1 small jicama
Raw cashews if necessary
Raw tahini
2 medium zucchini
2 small onion
1 large head garlic if necessary
1 head romaine
1 large apple
1 bunch grapes if necessary
1 package mushrooms
2 red bell pepper
More baby spinach if necessary
Frozen strawberries
Cilantro
Frozen corn
2 limes
Chili powder
Keep in mind that these grocery shopping lists are based on what I do not already have in
my
house. There are essential ingredients needed for the week's recipes that are missing from these lists because I already have them on hand. I should have mentioned that last week in case anyone wanted to try these meals with me.
I'm focusing a lot more on salads this week, as I realize that I enjoy eating a salad at least once per day, if possible. And lots of yummy fruits for breakfasts. Excited about Week 2!! :)